Samples of the press-fit enclosures have arrived, and they work great! From the outside they look exactly the same as before. They also fix the issue with some units where the circuit board could slide back into the enclosure juuuust enough to push the switch into read-only mode.
If you're just tuning in, the isostick enclosures were originally designed to be cemented together, as I was under the impression that was a highly automated process. Turns out: it's very manual. So the enclosure design was changed to include press-fit structures.
EDIT: The enclosures no longer have the gap mentioned below, see this post.
The back of the enclosure doesn't close as tightly as I would like, as seen in this close-up: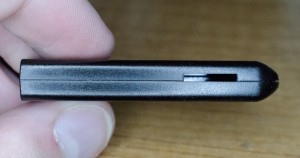 The photo makes it look worse than it is, you really have to be looking for it. On a key chain, this would be unnoticeable. It is important to point out that this is purely cosmetic. Even with the slight gap, it is difficult to pry open and just as rugged as it would be otherwise.
I will see about having this fixed in the future, but I don't want to introduce more delays right now for a hardly-noticeable gap in the back of the enclosure. Once again, this is purely cosmetic and does not affect the functionality or durability.
Also, retail boxes have been ordered, which are necessary for using Fulfilled By Amazon since they need a UPC to scan in their warehouses. That way you get fast shipping, and I get to focus on the important stuff like fixing bugs and adding features.
Time for me to run off and finish the program & test jig for production!